For the Past two or so Decades I have held on to some of obscured demos disk that were rescued from a House fire back in 2019 as well as some other things.
So in other words here's a bit of PCXL history
Transcript:
PC Accelerator aka (PCXL) was an American personal computer game magazine that was published by Imagine Media (currently a subsidiary of Future. founded in 1994, At a privately held company headquartered in Brisbane, CA. They produced market-leading print magazines and Web communities that focus on business, computing, electronic entertainment and the Internet. Its eight print magazines include Business 2.0, Game Buyer, Mac Addict, Maximum PC, Next Generation, PSM and even PC Gamer.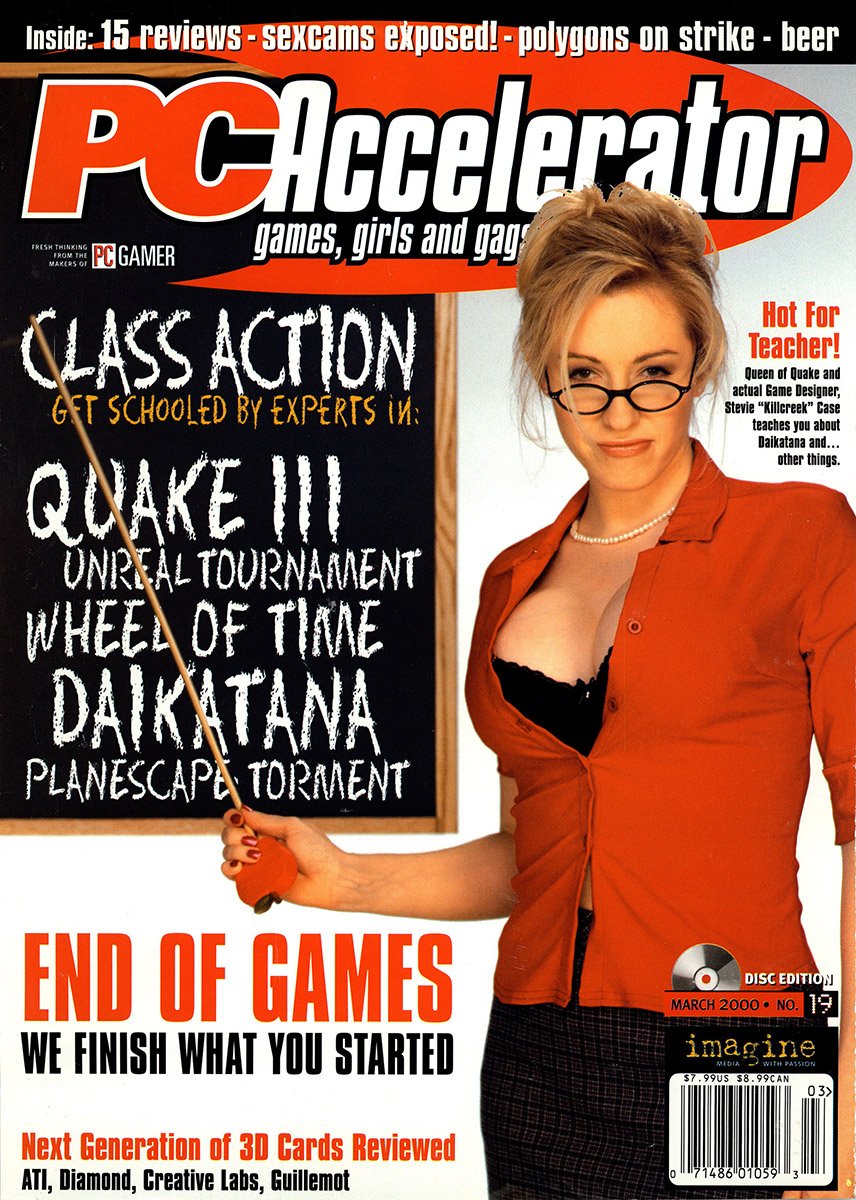 PCXL was known for its humor that cater to mostly male gamers and its suggestive photography. They announced the launch on September of 1998 when The first issue was published
the same month and The magazines are published on a monthly basis aimed at the emerging generation of hardcore PC gamers.
The magazine has nationwide distribution through affiliation with Curtis Circulation, Imagine is able to guarantee an initial audit of 100,000 readers for the new magazine.
They claim to define the emerging accelerated PC game market in its infancy and guide this very enthusiastic sector of the game market
into the year 2000.
"PC gamers can now experience the gameplay once exclusive to console gamers, but with better graphics and sound.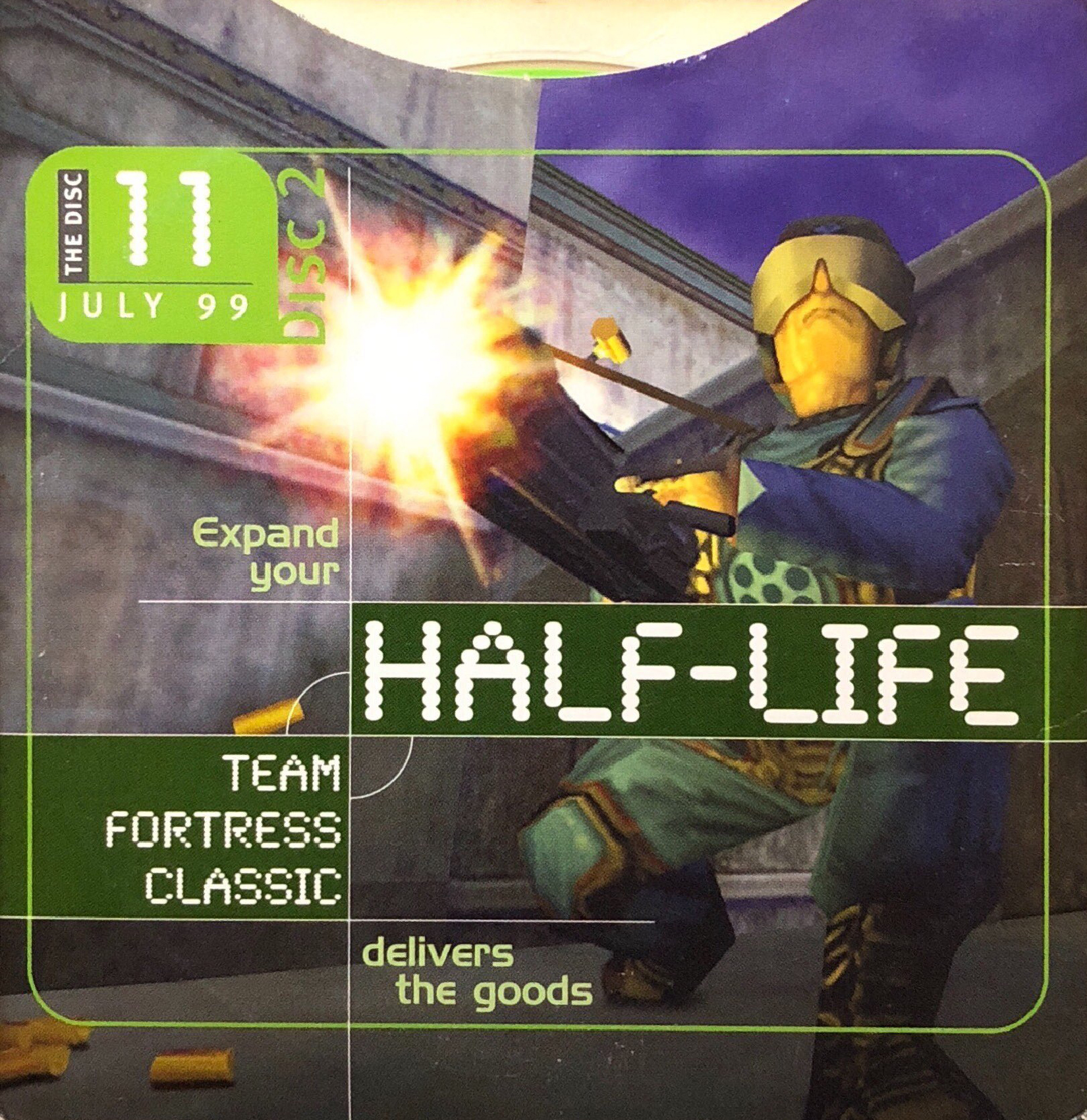 Games were typically reviewed on a scale of 0 to 10. Half-Life was the only game to receive an 11 (in the February 1999 issue.
Led by long-time Ultra Game players editor, Mike Salmon, he states, "Rarely in the magazine business does an editor get to create a magazine aimed specifically
at there demographic but also a member of its target audience!
PC Accelerator is about games and the people who play them. They strike an immediate following with gamers, giving them a magazine that speaks their language."
By June of 2000, PC Accelerator Closes its Doors after Its last issue After nearly two years in circulation, Imagine's PC Accelerator is closing its doors.  According to the magazine's editor in chief Mike Salmon, a shrinking PC market is the culprit of PCXL's demise. Currently, the PC Accelerator staff is wrapping up the June issue, which will be the magazine's last.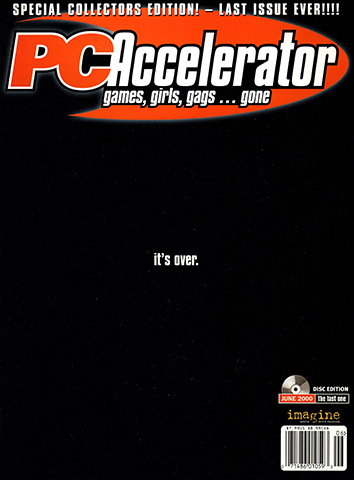 The survival of a magazine leveled out to over 100,000 readers and couldn't bring more in. The only source of income for PCXL
was advertising dollars, and to decide whether or not advertisers are going to buy ad pages.
Unfortunately, the content of the magazine has been kept out of large chains like Wal-Mart and were competing in a tough niche
market with not only Incite and Computer Gaming World, but PC Gamer! There market share was not growing
enough for advertisers to place ads in the magazine and the negative reaction from readers had a situation where it's nearly
impossible to turn a profit to continue on.
After the split up of the magazine, editor-in-chief Mike Salmon went on to start the Official Xbox Magazine. While some of the
staff was sent to PC Gamer, others went on to work for Daily Radar.
And that was the end of PCXL so it was though.
Out of nowhere In September of 2007, a special Fall issue was released to newsstands only as This issue was primarily written by the current staff of PC Gamer with contributions by former PCXL staff including Rob Smith and Dan Egger.
Since I don't have every single Demo Disk at the time there are the ones that I had a hold of in order to get these demos to work on a VM on Linux to record the game play seen in This video.
In other words here are the links to the demos so they can be burned to a CD Disk or mount them on a virtual Machine that runs Windows 95/98/me/2000/xp or even Wine for Linux
– Download links to the demos –
Special thanks to Enigmatic for archiving the remaining demos and creating the PCXL logo
There may be some missing info that I didn't include so More updates will be made when need be and when I find further info or to fix any inaccuracies.